How can i be so sick and still be up at nearly 3 am?
Sarah just kicked me out of her room...she's leaving for a youth conference in Memphis in the morning. i'm going to miss her. i wish i was going, too. Well, i do but i don't. i don't know...
i pretty much stayed in my room all day...reading, sleeping, drinking tea...i tried to write but everything i wrote just made me sad, so i stopped. i have a secondary infection (coughing...laryngitis...lots of green gooey stuff) and my doctor perscribed me some antibiotics. i'm still trying to decide whether or not to take them.
James Brown and Gerald Ford both died in the last 2 days. weird...almost...too weird...
Today was a day of being sick and tired in both the literal and figurative sense. Extensive congestion, staring out the window, a few tears, bla bla...
So i recorded an a capella cover of "How to Disappear Completely" in my sick voice. it just seemed the natural thing to do! 9 tracks of me singing lilting violin strains with a dry and swollen throat...actually it doesn't sound half bad. Sarah said she liked it a lot. and it made me feel a little better i guess.
Pip and Andrew came to say hi this evening. i accidentally punched Pip in the stomach pretty hard. didn't even faze/phase him...the man is a rock.

grr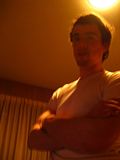 They're going camping tomorrow...i've never been camping before.
it's going to be a very quiet three days.
don't mind me...i just feel rotten and sleepy and...stuff.
i need to go get myself some water...
um...i just heard Thunder...?
~~~~~~~~~~~~~~~~~~~~~~~~~