..another...post.
With Sarah in Memphis, I was at the house all alone today (everyone had gone out to do various things). So Pip and i decided to go jeans shopping. At one point Andrew stopped by to say hi (and use a computer program...which ended up not working), and I told him Pip was coming in a little while. So Andy stayed and hung out until Mr Pip arrived. We played chess while we waited...
Man, Andrew looks pretty gnarly...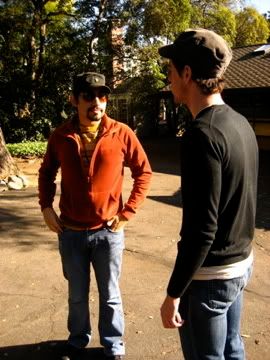 So Pip and i went to old town and we both saw people we knew. I saw a guy that used to babysit my sister and i...that was interesting. As we walked down the sidewalk Pip commented on the crowds of people around us, saying that it looked "like a hipster factory exploded". I thought it was funny...
We first went into Forever 21...where Pip nearly had a nervous breakdown because of how amazing he thought all the girls' clothes were. "Would it be too effemenite for me to say that these clothes are really, really cute?" he asked me at one point.
He even asked one of the employees where he could find an owl shirt like the one she had on.
It was pretty out of control, even for him. j/k, Pip, j/k! (j/k)
He did try on an AMAZING (men's) shirt that said "SWEET FREEDOM" on it, with an eagle and its victorious outspread wings...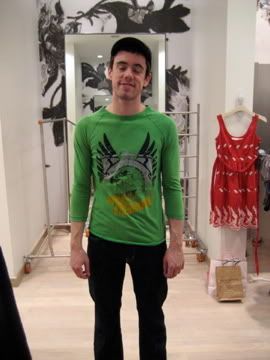 (he blinked)

it was on clearance! And he didn't buy it! i was very disappointed.
Neither of us ended up getting anything, so we walked around for a while longer and decided to pursue other interests. So, jeansless, we left old town.
We drove up to Archives and looked at old used books. We each bought something there!
Then we went to Starbucks.

My coffee says "Phil" on it. I think that's funny.


(look there's my old crumbling copy of "The Robe"!)

Pip and his Chai latte...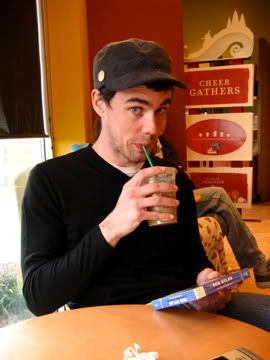 mmm!

Pip took the camera and pointed at me so i smiled. He didn't take a picture. So i made a funny face...and he didn't take a picture. I smiled again...and he began being all strange and holding the camera at a weird angle and making funny noises so i made a questioning, amused face and began to laugh...
and that's when he took the picture.


i think that's one of the weirdest snapshots ever taken of me.

I then began taking a picture of Pip every second or so. Just for fun...
i think i took around 85 (yikes) so i'll just show some of them...

in these first ones he's wondering what the heck i'm doing. he gets all bugged. it's great...


Bob Dylan!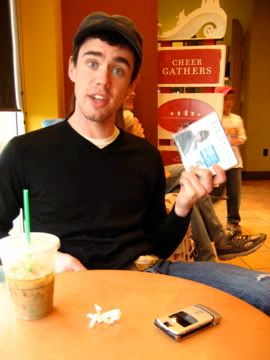 Colleen, that's enough.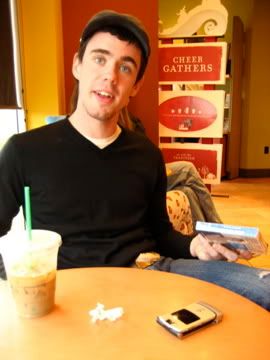 ...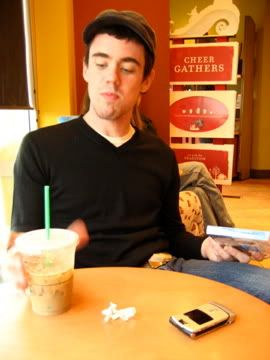 no seriously...


what are you...?


(face palmed!)

funny video of Pip being his real life deep down no-good self...
ell oh ell!
Then his Cell phone rang and i took about a million pictures of him talking on his cell phone. I'll just put up a few of those...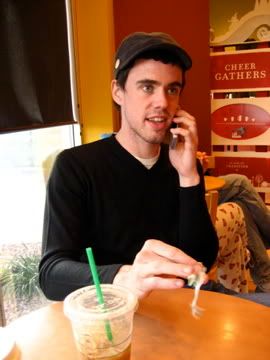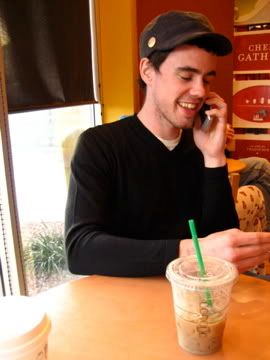 serious news...


sip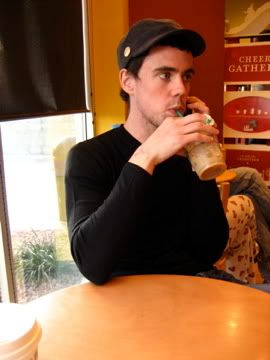 Yeah Pip, still taking pictures...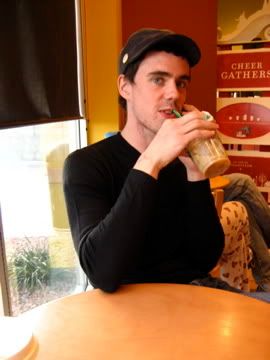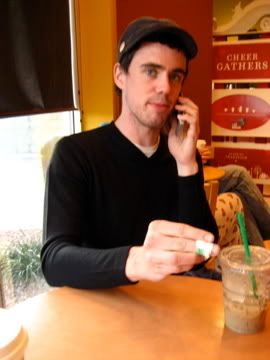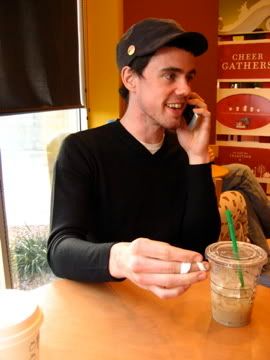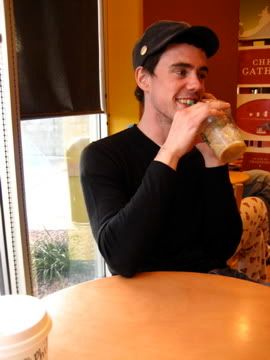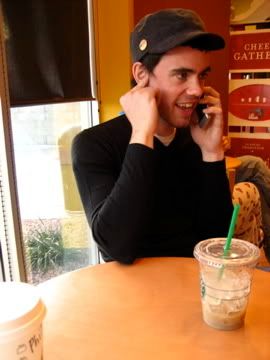 aaaaand...hang up


oh Colleen, you're so funny!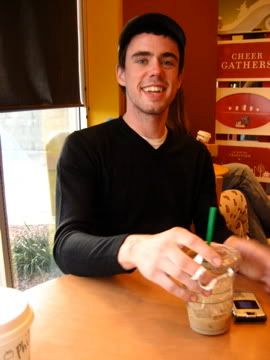 One of those should make for a good new myspace picture, Pip, no?
Then he took me home. On the way back he busted a few rhymes...i'll try to get that video up. It's kinda long...
This evening my family and My dad's cousin and his family who are staying with us got Chinese take-out. yummers.
i got to talk to Sarah a little bit tonight and that made me happy...
yup yup.
i'm picking up Alec from the airport in the morning, so that's pretty sweet. which probably means i should go to bed soon because i'm really tired...and...stuff...
but i'm sure i won't be asleep for another 6 hours or something...knowing me...
g-nite...maybe... :P
~~~~~~~~~~~~~~~~~~~~~~~~~~~~~~~~~