Much to the happiness of everyone in Pasadena, Laurel and her fiancee Chad and her family came to visit on Saturday!! wow!
Yesterday evening they drove all the way down from SLO, so we decided that when they got to our house we would make them dinner and hang out and just have a grand time of it all.
So mom whipped up a bunch of Spaghetti, with 2 sauces (one for the carnivores, one for the herbivores...), i made a salad, there were 3 kinds of bread, and we were set! All we had to do now was wait for them to arrive...
Pip and Alec came over around 8 and we ate dinner and amused ourselves. Sarah and Pip got into a butt-slapping war which is still waging and surely will for some time...
We played music...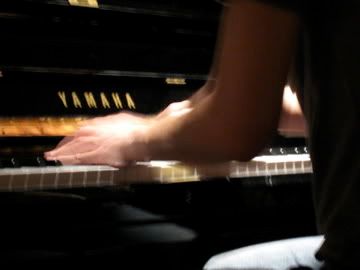 did some hand clapping...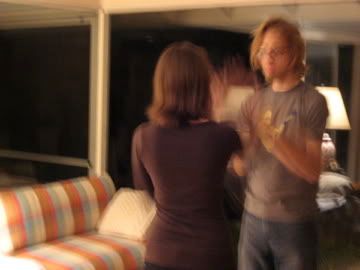 Alec shuffled around to Sufjan's Xmas CD...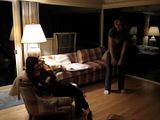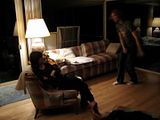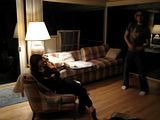 lovely Sarah being lovely...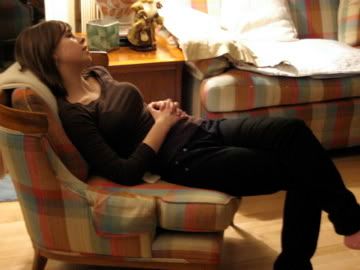 Pip read the newspaper and expounded on his findings...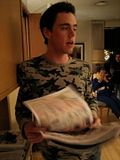 After a while they still hadn't shown up...
What to do...? hmm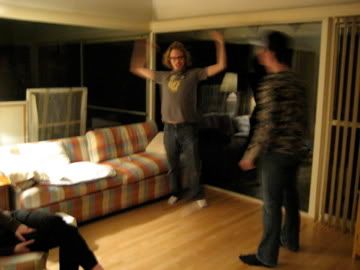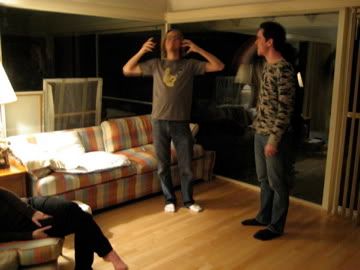 suddenly a flash of brilliance occurred...
And it was decided that the best course of action to take was that of dancing around the room to new wave and Michael Jackson...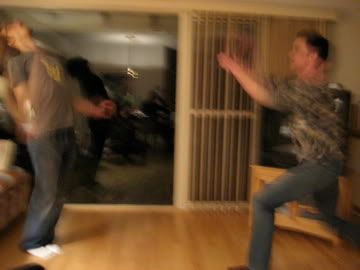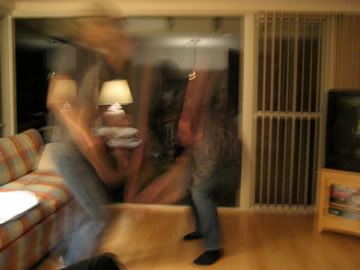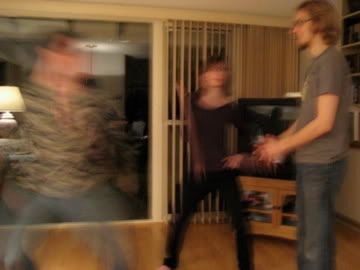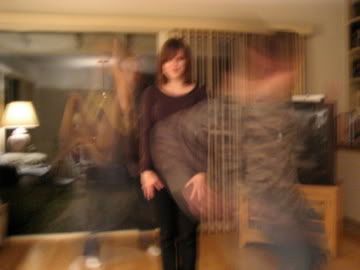 This revelry went on for much longer than we expected it to. i don't have many pictures for two reasons...one, i danced a little bit myself...and two, i took mostly videos. So expect videos of everything you have seen so far very soon...
tired
hot and sweaty...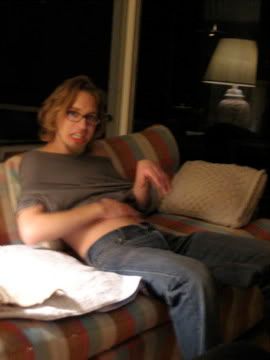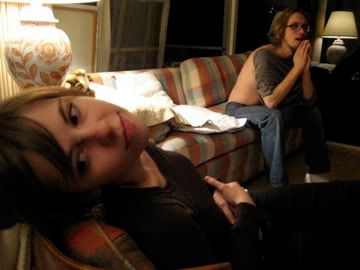 We did eventually simmer down, and went back to Sarah's room and watched the videos of us dancing like fools. Around 11 Sarah called Chad's phone to see how close they were...and they were right outside! We (well, Sarah and i) got really excited and thought it would ba a great idea if we were all dancing around in the living room when they walked in...you know, a good first impression for Laurel's fiancee. So that's what we did!
I have a video of that, too.
They came in, weary and tired, Chad met everyone, they all met Alec...
... Alec proceeded to beat up Kallista and Stefan and steal Stefan's shoe...
And then things were just spiffy. They ate food, drank some wine...
Look! There's Chad!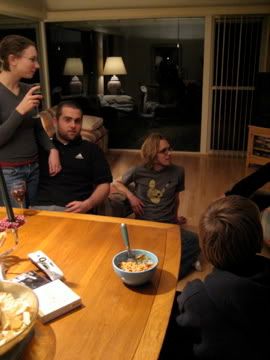 Acacia and Aimee...we missed you guys. ):
At about 11:30 dad went on his walk up the street. When he called to have my mom come pick him up, the 6 of us climbed onto the outside of the 4-runner and held onto the roof rack as mom drove up the hill. Laurel and Chad on one side, Sarah and Alec on the other and Pip and i on the back. It was very chilly. I sang "O Come All Ye Faithful" on the way up.
It took about 6 minutes to get to where dad had walked to...you could see all of Pasadena lit up below. It was gorgeous. Then mom drove dad back down and we walked home from there.
Because of our recent and long-awaited rainfall, it was clear and cold and fresh, and the night sky was mottled with clouds lit a dull orange from the abundance of city lights. We talked and goofed around and sang and Alec got his glasses stolen and Chad got to tell us all about his parents. Sarah and Alec tried to push each other in front of oncoming cars in attempts to spare their own lives and Laurel giggled a lot.
When we got home mom had made hot cider. We warmed up in Sarah's room and then called it a night.
There was church in the morning, after all.
~~~~~~~~~~~~~~~~~~~~~~~~~~~~~~~~~~~~~
Church this morning was very good. Bob spoke on Ephesians and God's purpose for His people. If i had some of my notes with me i'd type some...but they aren't within my vicinity. i'm so lazy...
After church the social antics were in full swing.
Babies...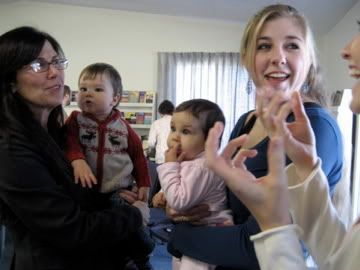 Being cool...
Trying to drag Sarah out the door...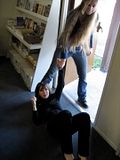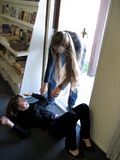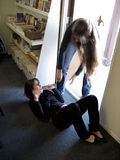 It was such a beautiful day!!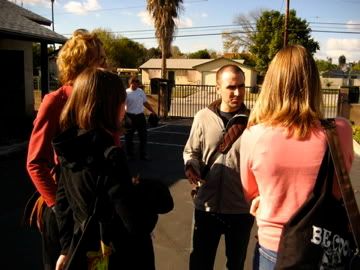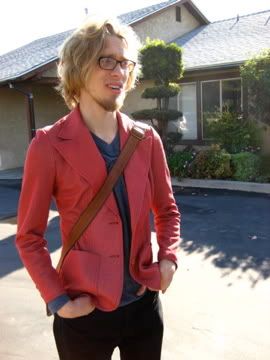 YES

Pei Wei was chosen as the destination for lunch.
Laurel is a VERY friendly girl...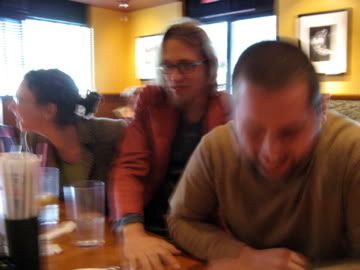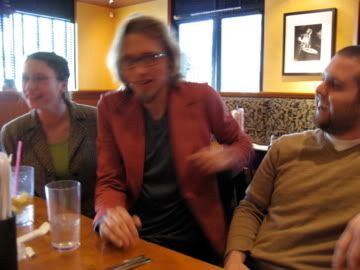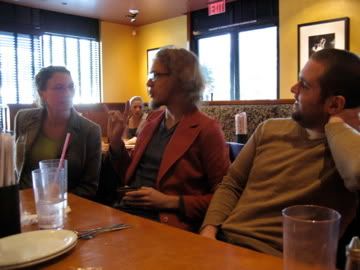 and Chad is also a very friendly guy...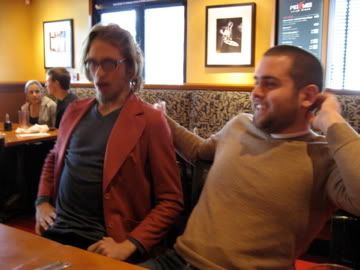 (Alec...just..looks so happy)
Then my camera's battery ran out. but you get the idea. Somewhere in all of the groping and laughing we were able to fit in some discussion about Thomas Aquinas' Summa Theologica and the 5 Proofs of God. Laurel and Chad DO attend St. John's after all!
We dropped Laurel and Chad off at the Pikes on the way home. I promised i would come by later, as Sarah and Alec were going to his church at 4.
It was a little after 3 o'clock when A, S and i got back to the house. With about a half-hour to spare before they had to leave, Sarah and Alec did the only logical thing to kill that amount of time...
Shave off his goatee.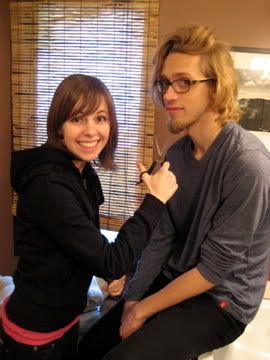 What will Alec NOT do for my sister...? First it was weights! Then Sushi! Now this...! i get the hint from this picture that their feelings concerning what is about to happen may be slightly different...
snip snip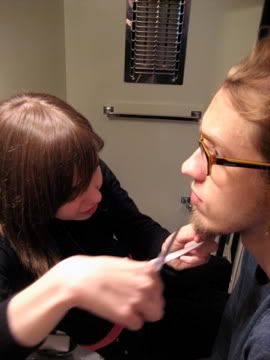 one last look...
aww!
Here goes (note...keep an eye on Sarah's expressions).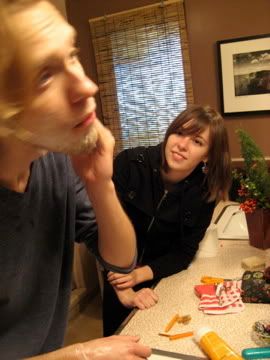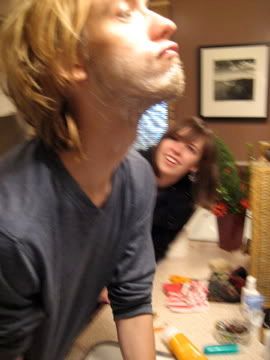 For the next 10 minutes or so he shaved...
and shaved...
and shaved...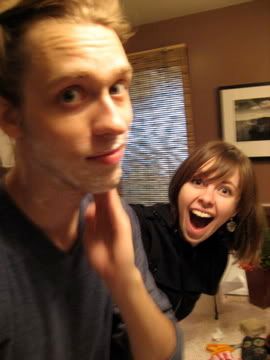 Sarah and i helped out with those tricky hard-to reach areas around the jawbone.
aaaand...
DONE!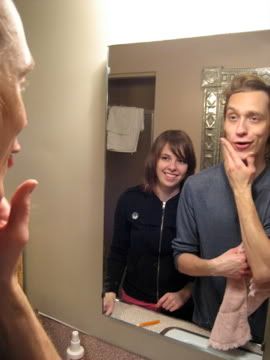 "Not bad...not bad at all."
In fact, i think it looks pretty darn good. What a handsome guy!
Sarah's face is absolutely priceless. "rreheeheehee!! what next?!!!?" she seems to be thinking...
poor, poor Alec...
And off they went to church! and i to the Pikes.
I got there just in time for a rousing philosophical discussion between Uncle Tom, Laurel and Chad about, you know, God and stuff ( i did that on purpose to sound shallow and uncouth...but you couldn't hear the inflection in my voice so it didn't work too well).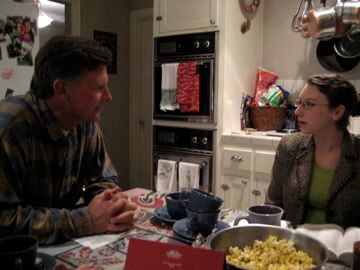 I drank some tea and Jeannie made Jiffy pop. Pip called at one point asking what was going down that evening. I said i'd call him back when i knew.
We moved to the living room to watch the game. Well, Tom and Bob were watching the game...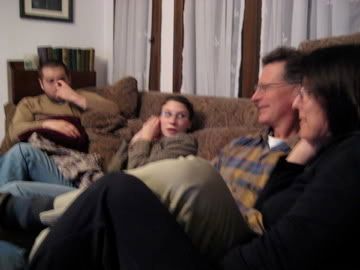 Amaris modeled her coat
Then Amaris remembered she had coupons for Borders that expired tomorrow! So around 7:00 she, Chad Laurel and i shoved off to the bookstore. Amaris drove herself and we met her there. We spent the better part of an hour browsing and perusing. I tried to find a book on Welsh so i could have a little fun with the Welsh-English Bible Laurel gave to me yesterday. But i couldn't find one. There was a book on Zulu for heaven's sake! But no Welsh. Stupid Borders.
But i couldn't waste my coupon so i bought a CD called "The Only Celtic Holiday Album You Will Ever Need", for only 7 dollars with the discount! Plus it's a two-disc set! sweet! I hope it has at least a few good tracks on it...i'll be quite happy.
Laurel Chad and i got home around 8:30 and sat by the fire in the living room. Chad played chess with Stefan for a while until he had to go to bed at 9. I made myself some salad, then Laurel made some too. Grandma was brought in and she sat by the fire and smilingly observed the next couple of hours of activity in the room. Pip came, and shortly afterward Alec and Sarah showed up. By now it was about 9:30, and we sat around and talked and bantered and Pip gave Sarah a back massage...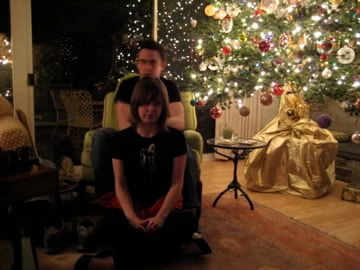 then he gave one to Laurel.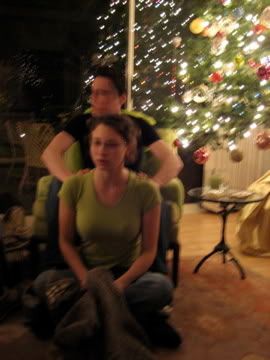 then Alec (: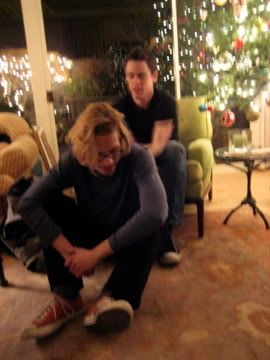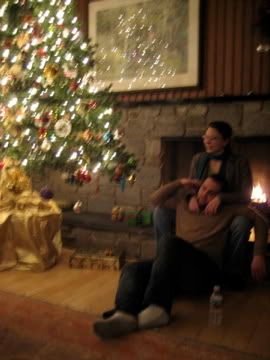 Alec told his funny bathroom anecdote for about the 4th time, Pip talked in a creepy voice and after telling a funny story about Matt and Jeffybear (both of whom i miss a hecka lot), Sarah and i said how weird it was that some of the people in the room didn't know them. and Vice versa.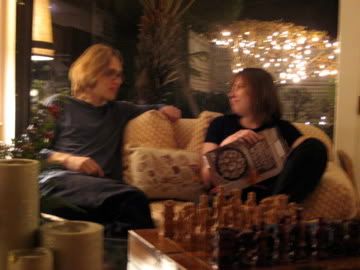 cozy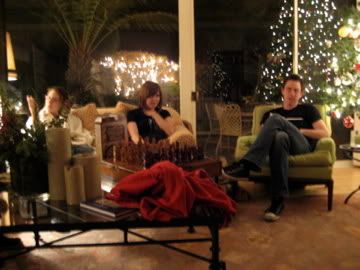 It is now 2 and a half hours later than when i started. and i'm quite sleepy and my back kind of hurts.
But there you go...it's all done! Look how dedicated i am! All for you...and i don't even know who you are or if you are even reading this!
Remember...there are videos of all of these things. the dancing...the shaving...sitting by the fire...and they are coming.
mark my words.
~~~~~~~~~~~~~~~~~~~~~~~~~~~~~~~~~~~~~~~~~~