Thursday night a group of us went to The El Rey To see Joanna Newsom. Opening for her was a performer called Smog, who was quite good. i thought. Joanna's newest album, "Ys", just came out and it's very unique and beautiful...her performance was, too.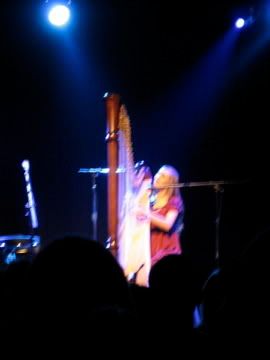 She played "Bridges and Balloons", then "The Book of Right On", after which her band came out and joined her and they played her entire new record straight through. Which was breathtaking...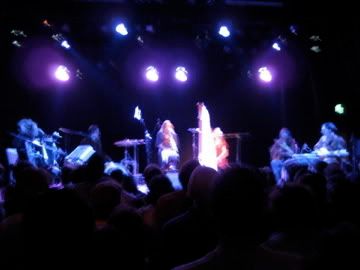 For the encore she played "Sadie", "Peach, Plum, Pear"...and finished with one of my favorites of hers, "Clam, Crab, Cockle, Cowrie". All evening i was thinking to myself how wonderful it would be if she played that as the last song...and she did! i was immensely happy.
Tired and sleepy after the show...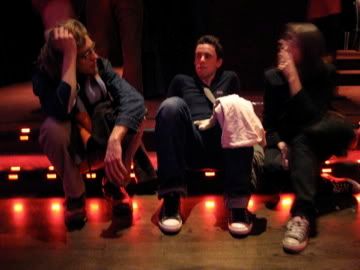 On Friday i painted Sarah some more, and then she had to get started on a group project for school. She is in charge of doing a "documentary" about the life and poetry of E.E. Cummings. So i helped her write the narration while she searched online for pictures she could use. Later in the evening Alec swung by to grab his camera and say hi...and got roped into recording all the narration for the video.
At one point when i was out of the room i heard a horrible moaning scream and feet stomping on the floor. i opened the door and went in and this is what i saw...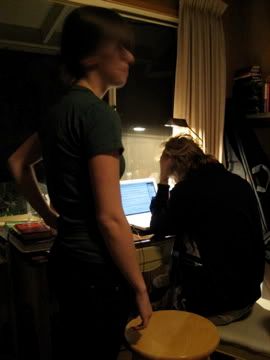 Alec was bent over the computer...kind of freaking out and groaning and shivering a little...and Sarah was looking quite gleeful. i was very confused...and of course intensely curious...
Remember in the post about Sarah's birthday where i talked about how she is always trying to blow in my nose and make air come out of my mouth, and it makes this weird noise...etc...and i've been lucky enough to be able to dodge her every time?
well...unfortunately for Alec...she got to him. And something tells me it wasn't very pleasant. It literally took him a few minutes to regain composure and put his glasses back on and start recording again.
I think he said his ears popped...(shudder)
Hours later, the recording was done...with some pretty fantastic outtakes here and there...not to mention some amazing vidoes i took. i'm trying to figure out how to upload them online...
Saturday wasn't too eventful...i helped Pip rehearse for a few songs i'll be singing with him at a show on Thursday. One of them may be a cover of a song by Smog, who opened for Joanna Newsom (as i said before).
Today was potluck at church...
It was also Grandpa Floyd's birthday...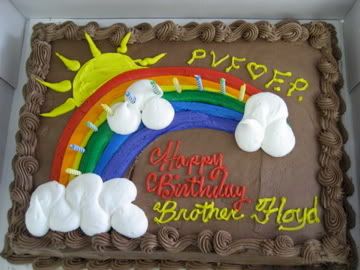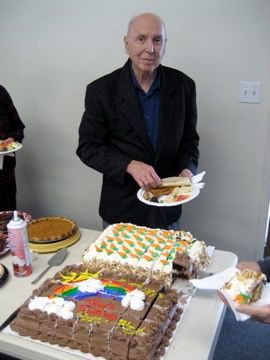 Now i have to drive back to Orange. i hope i get some painting done tonight...these next couple of weeks are going to be insane.
i hope everyone is doing well...thanks for your prayers. they are appreciated more than you'll ever know...(:
~~~~~~~~~~~