Grandma passed this morning around 4:15 am. Mom was lying next to her when she had a small heart attack and took her last couple of breaths. She came in and woke up Sarah and i and we went and stood around her bed. I was in a daze...even as i stood there looking at her i couldn't believe it was actually all over! Sarah and i went back to sleep a short while later, we were so tired. When i woke up later this morning she was gone...
"It's really weird that grandma's gone," Sarah just said to me. I am in shock right now. Our lives have literally revolved around my grandparents since we came to live with them nearly 3 years ago. And before that, i was here for about ten hours every Friday taking care of them. and now suddenly it's all
over
...it's incredibly eerie and disconcerting. Our lives are going to change completely...mom told me this morning she doesn't even know what to do with herself. Grandma and grandpa were why we moved here, our days have been structured around the rotation of caregivers, medications, doctor's appointments, finances...
I have seen my grandmother nearly every day of my life for the last 3 years...my brain just won't accept that i will never see her again as long as i'm alive...that when i come home on the weekends she won't be sitting at the dining room table with her newspaper and various catalogues, her feet up on a stool, a kleenex in one hand while the other is trying to take a sip of tea...
...i still haven't been able to cry. I'm just in disbelief.
Mom busied herself with taking ornaments off the little tree that was in the studio. Emotionally, she's been up and down. There is so much joy knowing that her mother's suffering is over...but she already misses her so. When we moved in here it was the first time mom had ever had a good relationship with my grandma...so the last few years, though extremely difficult, have also been very healing for her. She was able to truly love and respect her mother for the very first time. We have laughed with her...gotten frustrated with her...sang with her...marvelled at her unflappable spirit of contentment...oh Lord God i'm going to miss her so much...
I made mom and Sarah breakfast (poached eggs on toast) and we sat by the fire. Then it rained...and the dogs ran into the house all wet and excited. As we were sitting in the living room, Aunt Wren walked in carrying Caid and we all lit up. He brought a very welcome little ray of happiness as he walked around tryign to keep the dogs from licking his face off. "oo! oo! oo!" He said to them (that's his dog imitation...). Caid and my uncle John played with blocks while Wren talked to mom. Caid played with the dogs. Sarah then sat down at the piano and fiddled around with some melodies, much to Caid's delight. I sat him next to her and he went at it...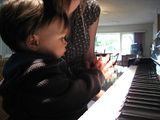 a little applause...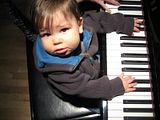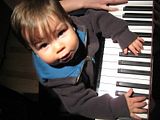 The sun is out now and it is so so beautiful outside...
I drive back to Orange again tonight...school in the morning...yea. That ought to be interesting! :P
My head is tired. I just messed up typing tired 4 times. There is more to write but my fingers are all blahguhfkajbmish. So i'll hold more thoughts for later when i don't have to retype every single word!
~~~~~~~~~~~~~~~~~~~~~~~~~~~~~~~~~~