So yesterday was New Year's Eve...and a very long and busy one at that...
I picked up Mister Alec from LAX at 9am, and we drove back to the house for breakfast. By then the whole house was up, and after an hour or so we left for church. The "grown-ups" went in one car, and us four younguns went in my car, and talked and listened to music for the half-hour it takes to get to church. It was a most beautiful day, i might add.
After church the whole clan of out-of-towners, family, and family friends went to Chipotle for lunch...
...which was quite quite amusing, as i got to sit down at the end with all the boys. And Alec. (;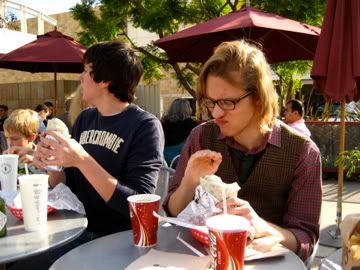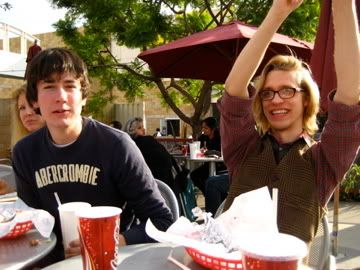 Justin and Clayton



i absolutely LOVE this picture. i just think it's amazing.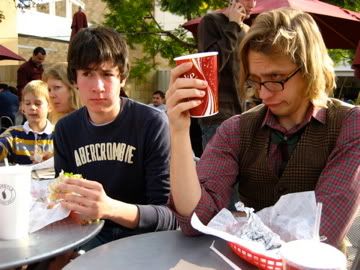 Good old cousin Johnny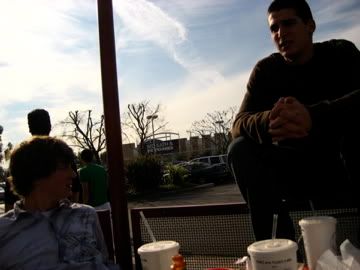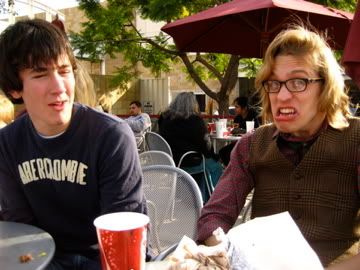 Alec and mom entertaining the crowd with their witticisms...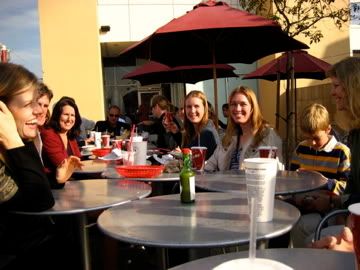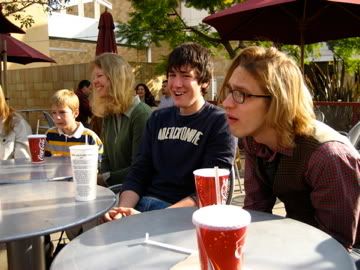 After lunch, Dad and Randy and Reid (his cousins, the two fathers of all the "kids", who are my second cousins, actually) went off to get about 50 hand-made tamales we ordered for the evening. Which meant Mom, Laurie (Brandon and Clayton's mom), Brandon, Clayton, Alec and i all had to ride in my little Rav-4. And we got to go marketing! yippee!! Alec got to ride in the way back with all my school junk.
At the store we got drinks (3 water jugs, 3 cases of water bottles, 2 bags of ice, Coronas, Cider, &c...) Firelogs, salsa, 2 big bags of chips, &c &c &c...
And for some reason we never considered that we would have to put this all in the back of the car...where Alec was.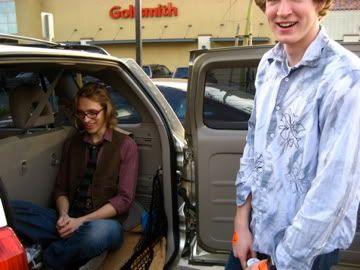 Alec is excited!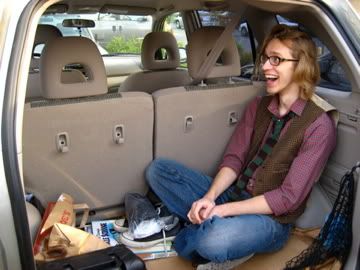 The two moms had some misgivings. Alec, Brandon, Clayton and i found it hilarious.
Laurie (in the red) was just beside herself with feeling so sorry for Alec...and as we piled groceries on him was very adamant that we not hurt him.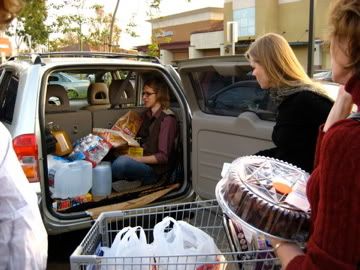 (actually, mom thought it was pretty darn funny, too.)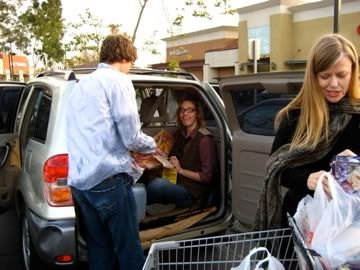 In this video you can hear Laurie pleading for her sons to be nice...commenting on how mean boys are to each other. The guys are enjoying the situation immensely. It's amazing. i can't get over it.
loading up...
We didn't end up putting the 30lb box of firelogs on top of him...Clayton held them in his lap the whole way home.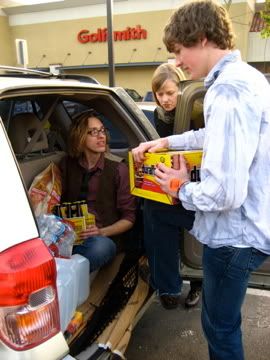 ...a priceless kodak moment...



ready to go!

and we're off...
Words of the Day...
Trifecta
Adversity
Clad
Chagrin
Gazebo
Onis
100 points if you know em all...
~~~
Skipping ahead about 5 or 6 hours...
The evening was pretty low-key...about 30 people family and friends all hanging out. Lots of Piano playing...here's Caid and i rocking out...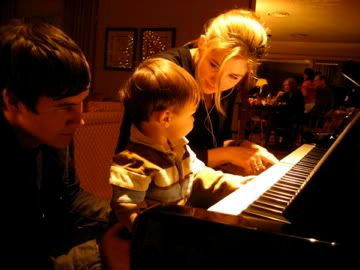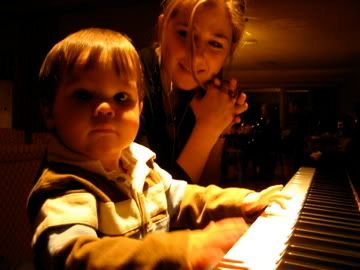 Clayton and Alec in sweet musical ecsasty...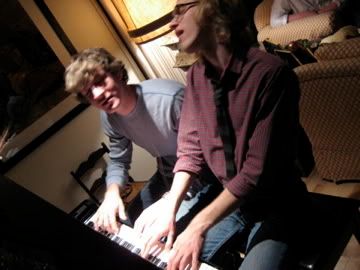 At one point in the evening, things got pretty intense as Alec improvised on the piano and my aunt Wren and i were his back-up singers. I wish someone had gotten some footage of that, but i'm the only one that thinks of these things!! aagh! It started out with just the cousins, Joey and a couple of others listening...but half way through our first epic ballad the entire party was gathered around the living room. Stunned speechless...most likely with utter horror and confusion...but still that's quite a feat.
At least we recieved some "scattered applause"...(:
oh yea...and Pip and Alec took their shirts off to have it out. Sadly, i only got the tail-end of this spectacle. (what you don't see is the room full of people behind the camera.)
Pip: "Alec, what are you doing, man? You're ruining Christmas." hehehehe...
Clayton then showed us some of his various impressions...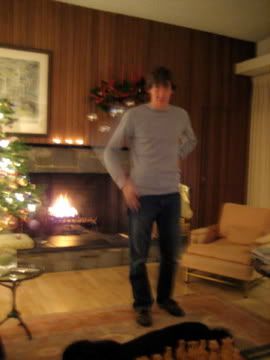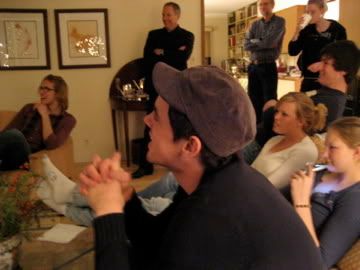 Pip and Alec both left fairly early in the evening...i think Pip had another party to stop by.
The cousins left around 11 because they had the midnight to 6am shift on the parade route. I was way way too tired to go this year...
Indiana Jones was put on in the studio around 10 for anyone who wanted to hang until midnight. Once most people were gone or watching the movie (i didn't feel like watching it) i fiddled on the piano and stuff. I listened from the living room as the broadcast of Times Square bellowed out the coming of 2007...
Sarah called me around midnight (which was closer to 2am her time in Memphis...) and i go to say hi to her...apparently the young people there had an amazing prayer and worship time that lasted from about 8:30pm to 1:30 in the morning...so she was upbeat and chipper despite the late hour.
~~~
New Years day always feels so wierd...because i kind of expect it to "feel" different, you know? and nothing spectacular ever happens...so it just ends up feeling weird.
Leftovers were heated up for lunch, and Dad, Randy, Brandon and Clayton have spent most of the afternoon watching the game. We ran outside as we heard the fly-over at the start of the game but just missed it!
I can hear the noise from the Rose Bowl stadium right here where i'm sitting.
I think i'm going to drive to my apartment tomorrow and get away for a couple of days. I have to be down at school for something this week anyway. Then Sarah comes home on Friday...she's taking the train from Memphis. So she should have a pretty interesting trip through the country.
Well, that's all i guess...today was another gorgeous one. Sunny and crisp. Now it's getting dark and windy.
i hear the marching bands...drums...lots of screaming...it sounds a little scary, actually...
~~~~~~~~~~~~~~~~~~~~~~~~~~~~~~