After a few weeks of work, here is...
Ta Daaa! My first figure sculpture!
...it has a few problems, but i enjoyed it immensely. And i felt i should share, with all of you out there, said enjoyment.

So here are a few pictures...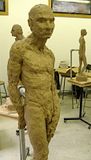 Right after these pictures were taken i got to tear him all apart. Kind of sad...but i get to do a new one next week!



BOO



...the angle of the camera makes his feet look kind of small...o well.

and here's the start of my painting of Krystyl. I posted the under painting in the previous post...
Still lots more to do...
Time to go and...paint...some more...
:P