Alec Pip and i actually recorded Sarah's Birthday song last week...but i couldn't post the pictures until now because i didn't want to ruin the surprise (even though she kind of knew about it).
This photo could use an awesome caption...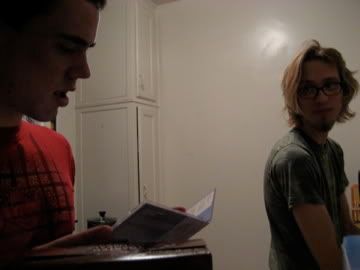 So here, we are listening to the take Pip just recorded. Their expressions ought to clue you in on how it sounded...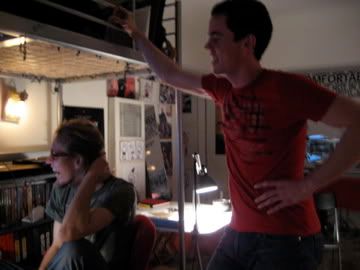 We listened to the song tonight (er...last night), and it's just awesome. Go Alec!
Any way this evening (er...yesterday evening) we went out for Sarah's birthday. She just turned 22...on the 22nd! wow! so Sarah Pip, Alec, and cousins Amy and Anna went to our favorite Malaysian restaraunt, Kuala Lumpur, for dinner. It was so lovely to hang out with so many of my most favorite people.
Afterward, Pip and Alec came over to the house...and that's where the REAL fun began...
Tune in next time for a full and illustrated account! Because i'm too dead tired to post it all tonight, and my face is about to fall off.
well...you'll see.
Happy Thanksgiving...(: