Sarah's Birthday was yesterday (as you know if you read the last brief post)!
Mom dad and i took her out to breakfast in the morning at Marstons. i picked her some flowers...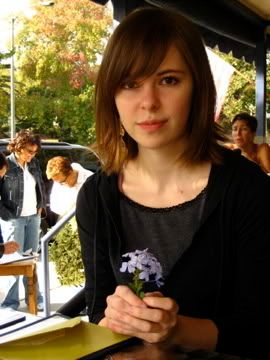 beauty
That evening we (as i said in the previous post) took Sarah to Malaysian food for dinner. On the way, Sarah Alec and i listened to her birthday song in the car, with a bunch of other weird little things he put on the CD. When we got to Kuala Lumpur, Amy and Anna had already arrived. Alec got to experience sitting with the 4 Police girl cousins for about a half hour before Pip came around 8:15 (he had class), but i think he held his own. It was quite, quite enjoyable. i especially liked watching Sarah (instead of me) being forced to act as the calming agent, shushing Alec and trying keep from knocking his plates and silverware off the table.
I gave her her present from me...Sufjan Steven's new "Songs for Christmas" album.
buy it!
You won't be sorry.
She knew what it was before she even opened it... she was very excited...(:
i bought one for myself, too.
When the 4 of us got back to the house, we played Pip Sarah's Bday song...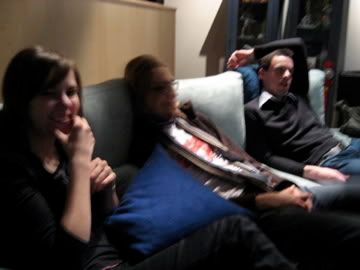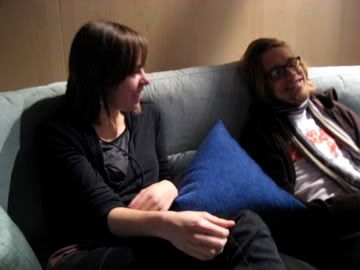 We were all so tired...but Agh! Such happiness!

Mom and dad then came in and gave Sarah a couple of presents, one of them being a children's book from the 50's called "The Biggest Bear"...
Mom got out the organic/all-natural/dairy-free/soy chocolate cake (that apparently tasted like fish...i didn't have any) and Soy Ice cream...that's what you get when you have vegetarians for friends and a sister who doesn't eat dairy.
Sarah opened up the Sufjan package and she and Alec perused it's wonderful contents...5 cds, stickers, stories, &c...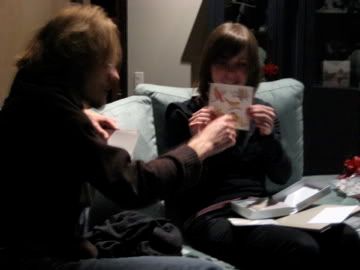 Soon, everyone sat on the floor with their plates, and Sarah then proceeded to read aloud the entire book...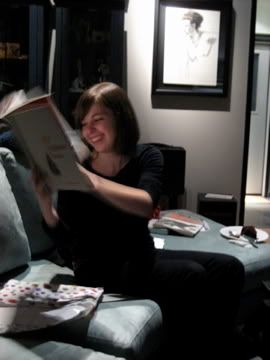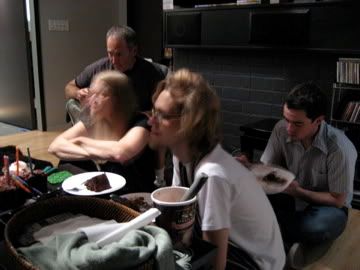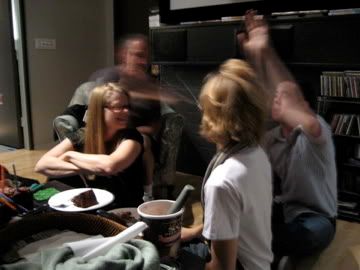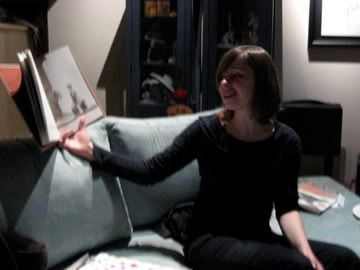 When the book was done, Sarah and i decided it was high time for a game of telepictionary. So we broke out the notecards and pens and our imaginative and artistic skillz and laughs ensued...
"What the dizzle is Telepictionary??" you ask me.
Well, my dear, it's a combination of Telephone and Pictionary, really. Each person starts with a stack of blank pieces of paper equal in number to the players present. When the game starts, everyone has two minutes to write down a phrase, or a scenario, or anything really, on the top card. When the two minutes are up, everyone has to pass the stack of paper with their phrase on top to the person next to them. Now, everyone has a sentence of some sort to read, and they all have one minute to try and translate what is written down into a drawing on the next piece of paper. When the minute is up, the stacks with the drawings on top are then passed down...and now everyone has a really strange drawing in front of them, which they then have to describe in writing on the next card, which is passed down after another minute etc etc...
Finally, you get back your original stack...with (hopefully) a very very hilarious drawing on it. Sometimes it's COMPLETELY different from what you originally wrote, sometimes nothing has changed, except for one little thing...which can still be amazing. I'll give you some examples from last night...
Sarah wrote: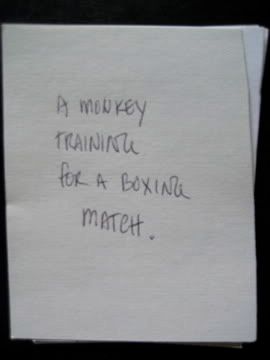 so Dad drew...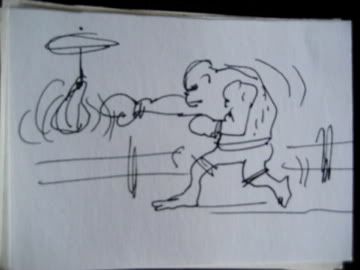 when mom got that drawing she wrote: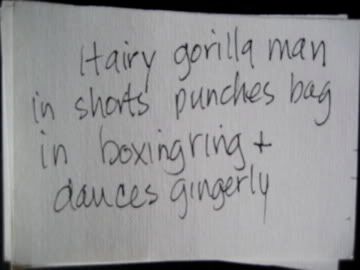 the above phrase is what i got...so i drew...
i guess when i read "Bag", i just pictured a grocery bag...he he...
Pip recieved the drawing and wrote...
Finally, Alec was passed Pip's explanation and drew...
I LOVE THIS DRAWING
So Sarah, who originally wrote, "a monkey training for a boxing match" got back a drawing of a large man punching a grocery bag. (:
One of the best of the night, however, is this one...
Alec began by writing...
which Sarah got, and so she drew...
dad then wrote...
which mom recieved and drew...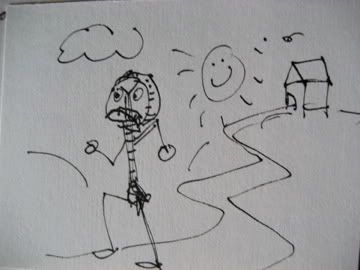 I recieved that drawing and had no idea...well, okay. now, in my defense, look at the drawing. If you weren't told it was an angry banjo, what the heck do you think it looks like...??? So i did the best i could in trying to describe it...and wrote...
yea...
I passed it to Pip, who brilliantly drew...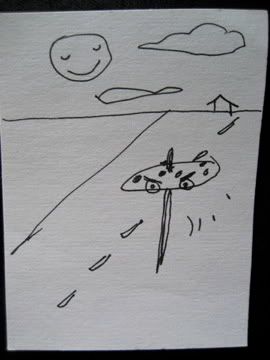 And that's what Alec got back, after originally writing "The banjo decided to leave home and get a job".
YES. i think this warrants an LOL!!!
There were a few other fantastic ones, but you get the idea. It also helps when you're there with the atmosphere and the laughter...but that's okay. You will just have to play it sometime. (:
~~~
Do you ever have times in life where you suddenly stop, look around you, and ask yourself...how did i get here? What happened that things ended up this way? Where did everything just start rolling downhill? How did such a peaceful evening end with two shirtless men covered in grass, ripped jeans wet to the knees and a bloody nose?
Here's how...
Sarah started doing her thing where she goes limp. And makes us catch her. And keep her from falling again.
Pip and i carried her to the living room where i told him to pin her arms down so i could blow on her stomach. After a few minutes of this, they decided to pin ME down. I told them fat chance...but they tried anyway. Pip thought that Sarah just wanted to tickle me (which is bad enough), but Noooooo. She wanted to blow in my nose and make air come out of my mouth.
don't ask...she's been trying to do that to me for a few years now...
They attacked. I fought. They had me down for about 30 seconds where Sarah attempted her heinous deed. I rallied and went into a death roll (like a crocodile) and before i knew it i was up and my hair was all tangled and i was all hot.
We then began speculating about whether or not we could all pin Pip down. He pretty much laughed in our faces in defiance that we could even think about the 3 of us all successfully ganging up on him.
I took that as a challenge. It was cold and damp outside, but within minutes all 4 of us were slipping around on the grass trying to get a grip on Mr. Pip Iron Man Craighead...
at one poing Alec actually knocked him down, and as i rushed to grab Pip's arms, he suddenly shot up from the ground at full speed...and the top of his head plowed right into the middle of my face.
I heard the sound of a twig snapping and stepped back a few feet...lights flashed in front of my eyes and my hands flew up to my face, not in pain, but to make sure my nose wasn't an inch too far to the left. it felt okay...
Pip, horrified, asked if i was alright...i smiled and said "Yea, i'm fine! don't worry!" i waved one of my hands at him, he turned around, and Sarah and Alec went back to trying to tackle him. I stood there for a minute in shock...My face was throbbing, but it didn't exactly HURT...
My eyes were streaming...i wasn't crying but i might as well have been! I kind of laughed to myself as i felt my head getting all dizzy...which always happens when i get hurt...whether it be a splinter or having my arm chopped off. I assured them i was okay and walked into the house. In the light of the kitchen i looked at my hands and discovered my right nostril was dripping blood, and SERIOUSLY my first thought wasn't "Oh crap, i'm bleeding! What if my nose is broken!" no, it was "YES! my first bloody nose! And Pip gave it to me!"
I grabbed a paper towel and went back outside. When Pip saw i was bleeding, he felt horrible. I didn't feel too hot either...but to prove i wasn't a wimpy girl i joined back into the roughhousing. We tackled him pretty good a few times...but i was just in no shape to think about what i was doing. The best i managed do in my blurred fogginess was grab him around the waist and wrap my legs around him like a python and not let him get up. hehe. I have no idea what Alec and Sarah were doing. it was pretty funny.
He still insists...up to when i talked to him about an hour ago...that he won. I don't accept it. i was not able to perform to the best of my ability. THIS IS NOT OVER PHILIP...
I went back inside and got some frozen peas out of the freezer. My nose was kind of starting to hurt now...
Alec and Pip then thought it would behoove them to go at it one-on-one. So Alec bared his own chest and they went to. Sarah and i watched with full and unbridled amusement. i took some pictures. and videos.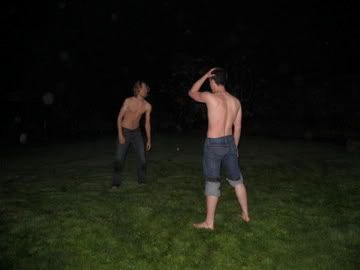 They tossed each other around a while. Spit, cursed, threw punches...
just kidding.
You know what finally stopped them? Their feet got too cold. Brilliant.
Soon we were all standing around in the kitchen. As i leaned against the counter with a bag of peas unter my nose, Pip sat and mourned the wide tear in the knee of his favorite pair of jeans while Sarah, covered with grass, wiped off Alec's back with a damp cloth so he wouldn't have an allergic reaction to rolling around on the lawn. She then examined his moles and they talked about popping zits.
Sarah said she had a good birthday. (:
~~~
Right now Sarah and i are sitting in her room and listening to the Sufjan Christmas CD. It is so inspired and overwhelmingly wonderful. Thank you Lord Jesus for Sufjan! We're waiting for Alec to get here so we can practice singing some hymns tonight at Thanksgiving. It's going to be an interesting evening. This is the first Thanksgiving without my Grandpa, and the first one where we're going to someone else's house. It will be the whole Police family...and guests...lots of food...lots of potential for drama...and lots of potential for a very blessed time.
Oh, Lord be there...
Sarah is waiting for me to finish. She's staring at me.
She sure looks pretty.