So, last night was Gorgeous Genius playing an acoustic Kid A set. I thought they did a fantastic job. I hope they do it again so Jeffbishop can come and see.
Here are some pictures from their performance...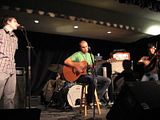 Joey singing, Jeff strumming, and James. James plays the violin like a champ. On the drums is Eddie, but you can't see him. He's really good, though.



This may have been during "How to Disappear Completely"...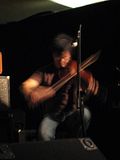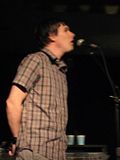 too bad no one got a picture of me playing the kazoo...

Apres le show...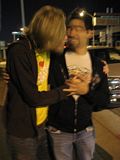 don't ask.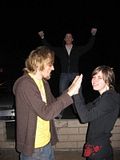 mighty.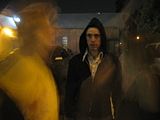 scary coolness.

It's 11:30. Show's over. Off to get Boba!!!
Pip, Alec, Sarah, Laura, Andrew, his brother Gabriel and i moved our location to the spectacular "iCafe"...with equally spectacular patrons. Breathtaking.

Alec and Laura were wearing the same sweatshirt. Laura also had an Amoeba music bag. Sarah was carrying one of these as well. So she gave her bag to Alec and her glasses to Laura (that's why they're so crooked) and...well...i can't even tell the difference.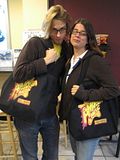 GREATEST. PICTURE. EVER.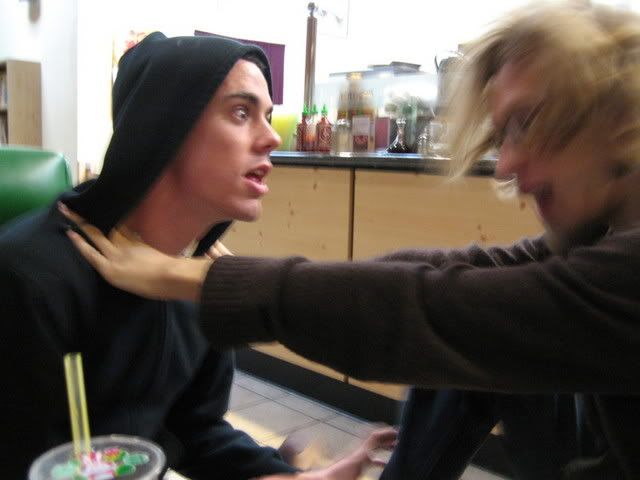 Pip: "I look like I just blew Alec away with my mind!!"
The four of us ate some fried rice and Sarah didn't like her boba slushee (can't say i blame her) so Pip drank it all. Only to be accused later by Sarah of drinking all her boba slushee. HAHA
Alec has "heroin eyes", apparently...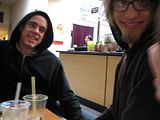 aww, look at Sarah! Whatta cutie pie!



Pip suddenly realizes who he's been hanging out with all evening...
(that's Alec wiggling Sarah's finger, btw...)

Next: Sarah and Alec plot diabolical plan to take a picture of Colleen...Alec grabs camera, Sarah grabs Colleen's head and...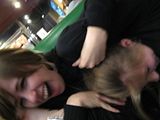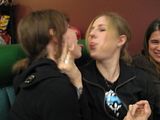 pure love.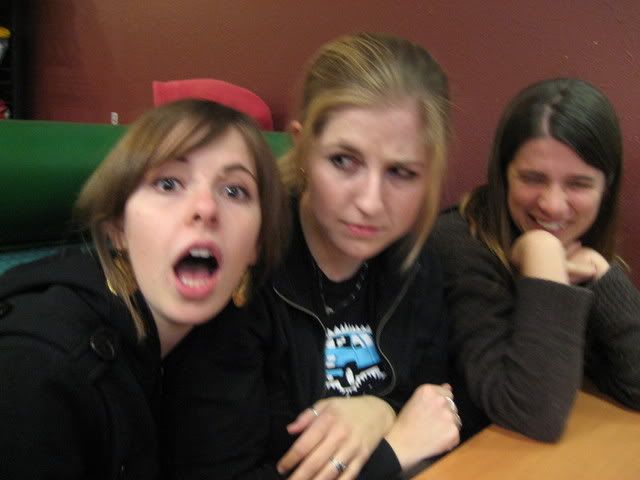 When we got home around 1am, Sarah Alec and i took a walk up the hill next to my house. On the way Sarah ran ahead and tried to hide and scare us. It would have worked if i didn't see her sneaking around. Then she did this thing where she goes all limp and makes me catch her. Then she just laid in the street. For the next ten minutes, Alec got to watch and laugh as i sat on her, blew on her stomach and tried various other techniques to get her off of the ground. Finally, after two nearly successful attempts at a wedgie, she was up and we were mobile again. I was so warm at that point i shed my scarf and jacket.
For the next hour or so, i drifted in and out of conversations about how majestic and beautiful and frightening God's creation can be, and in spite of it's glory, how empty everything is without the recognition of the love that put it there. We reached a bend at one point that overlooked the city. The mountains in the distance loomed black and massive. Stars and the half moon were thinly veiled by whispy clouds. A plane inched along high above us, leaving a vapor trail that split the sky in two, making it look like we were inside a huge dome.
We rested there. Sarah laid on the ground, i sat on the guard rail and Alec stood. We talked about being still. About being so small. About being joyful. After a while i just sat and listened to the air and to the two voices next to me. Contentment.
sigh.
I got cold again and put my scarf back on. On the way back down we sang together, "How Great Thou Art"...bittersweetness filled me.
We got back a little after 2. But i didn't sleep for a long time...
What a wonderful Father we have...