I'm sitting on a cooshy couch at school and i just finished a free cup of coffe and it's cold and drizzly...aaah. yes. love.
I got an e-mail from my teacher Betty this morning...and LCAD's Europe trip next summer will officially be in Florence and Rome...! agh!
oooh Lord i want to go...but so much $$$money$$$...but Italy!!
i "finished" my painting of Krystyl today...this picture isn't very good (color's off...as usual) and it's only a part of it. Buut i thought i'd post it anyway. When i get a better one i'll put it up.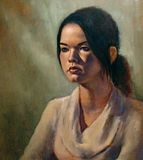 just for fun...

silly Andrew and Alec...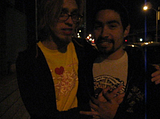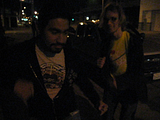 Now i'm going to go mail a package to Laurel...
clln