First off, the results of no rain and lots of wildfires on the hillsides on the way to school...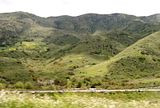 last year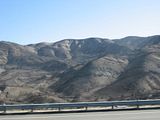 this year

Anyway, on a more positive note...!
Last Friday
The Dandelion Council
(Pip the great) played at the No Future Cafe. And it was quite quite wonderful. Pip is really reaching out and embracing his love for audio and visual imagery and combining the two...so when i see one of his shows it's like i'm listening to and watching Pip's spirit. i know it sounds totally cheesy but it's true!!
So go Pip. :)
Pip and Andrew setting up...
:)

Alec and Sarah silliness...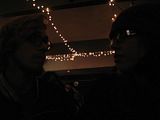 El Ten Eleven played as well. Now that's a good solid soiree of superior sound expreience. The Dandelion Council and El Ten Eleven.
Aces.
Kristian played some songs from the new album that were amazing...it's a great record. But nothing beats them live.
~~
Fleurette made us cookies.
~~
Saturday was women's prayer meeting at the Pikes, where i got to see my lovely cousin Amy. Afterwards, mom and i met Sarah and Alec at Pei-Wei for lunch...as well as some special out-of-town guests...Alec's older brother and his family!!
Ian and Alec
Ian's wife Stephanie and their daughter Ana (who i totally fell in love with)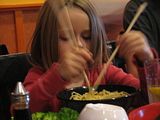 We celebrated Ana's birthday as well, and met up at Alec's apartment for Sarah's homemade carrot cake, and some presents. Pip and Fleurette came over for a bit and ate their cake in bowls with butter knives (alec was a bit short on utensils).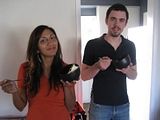 yum



Admiring Ana's artistic creations inspired by her birthday gift...


There are some great videos from the show and from Ian and Stephanie's visit...i'lkl see what i can do about that...
~~
Sunday. i picked up Edan in Laguna, and he enjoyed a nice nap on the way to church sporting my red sunglasses...
:)
After a good message by Grandpa Floyd, lunch at Chipotle was in order. Sarah Edan and i freaked out Alec by making him think we all wanted to go to Togo's instead. But we didn't really.

Reid is super happy about the food he is about to enjoy.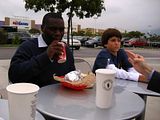 watching Jeff's hands talk is mesmerizing.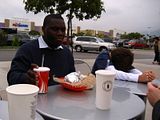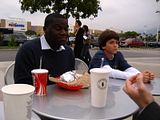 Edan decided that afternoon that he wanted to bleach and dye his lovely brown hair.
So, on the way home from lunch, we swung by Han's Beauty Supply and stocked up on provisions. lightner, activator, and "shocking blue" hair dye.
Bleaching makes your head itch. Edan appreciated a good old-fashioned scratching very very much.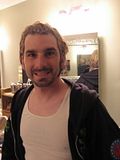 wow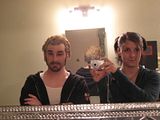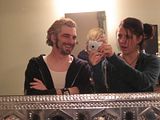 Then came the blue...


oooh, Alec

Likes

!!!
And there you have it. Blue hair. it makes me want to make mine teal again. i've still got some left...
I love you Pappas' (and maybe-Saleckers) i think about you all a lot...Craigheads...Megibbens...Adams' (and all Police-related entities)...and everyone else who isn't part of a clan. i would give names but i don't want to leave anyone out and feel like a total jerk.
Okay. i'm spent. I hope that was worth 2 and a half hours in Starbucks for all you people out there! Now i have to go draw for the rest of the afternoon so i can see a movie tonight.
love, colleen
~~~~~~~~~~~~~