another portrait...yay
underpainting...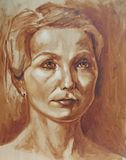 "finished" portrait.
I think in the actual painting i got her likeness better...but I wish we had one more day on some of these!
No matter. i still enjoy it.
an underpainting i did of my friend Danny...
No one can ever accuse me of not showing my work ever again. ha.
i will read The Great Divorce again, Joey. thanks (:
hungry.