Today mom Sarah and i walked along Lakeshore Drive to visit a friend of ours, Billy...it was absolutely lovely.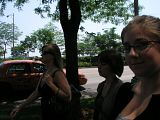 This is mom and Sarah walking along Lake Michigan...it's surrounded by a huge concrete fortified bank. It's pretty amazing.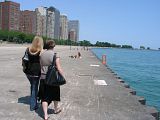 Sarah was tired all day...
Men playing chess in the park...and attracting an audience, apparently! The bordwalk area lining the Lake reminds me of the one in New York surrounding Central Park. Except it's nicer here. Everything here is nicer than in NY, in my opinion.
Mom stayed behind with Billy (she's turning 90 this month!) and Sarah and i set out for adventure and excitement...
The two of us hailed a cab and went to the Navy Peir. There, we took an
architectural boat tour
and got to learn about all of the amazing buildings lining the Chicago River.
The first is the Sears Tower, the second is the old abandoned post office (which the city is still trying to figure out what to do with), the second is the beginnings of the new Trump Tower (whoohoo.), and the last two are the "corncob towers", as they are known around here. (Also the buildings on the Wilco album...)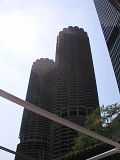 After the boat tour, Sarah and i took another cab to the
Art Institute of Chicago
. For me, the most fascinating part was the armour and war regalia from the 15-1600's.
Can you believe people used to FIGHT in that stuff? The last two are what they used on their horses.
And here are Sarah and i in front of the famous painting, "Sunday on the Island of La Grand Jatte", by Seurat!
and this was another gorgeous painting i saw there...i can't remember who painted it! if anyone knows please tell me...
anyway...tomorrow we're taking a plane to Minnesota and drive to Duluth for a big old family reunion.
i'm terrified.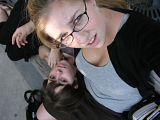 (: