Last night's show was one of the most beautiful experiences of my life. I hope and pray i get to see Sufjan play many more times in the future...his performances make you feel alive and safe and hopeful. They are otherworldly.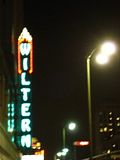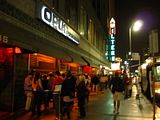 This video isn't from the show we saw, but it might as well be. This is a video of the "theme song" for the tour, last night they were wearing the same costumes, playing the same images on the screen, and he introduced the band the same way...you'll see. (:
The song is incredible...i hope he puts it on an album, but it just won't be the same as hearing it live! It's long, but it's worth it...even though the sound is bad.
The best way to hear Sufjan Steven's music is live and in person with the colors, lights, sounds and stories he tells. The man has been blessed by God with incredible talent and integrity, and he's passed that on to so many people. When he played Casimir Pulaski Day i nearly started crying...people around me were. Hearing him sing about Jesus dying on the cross last night in a concert hall filled with hipsters and "indie rockers" was nothing short of a miracle. Sometimes it was so quiet as he sang you could hear yourself breath...
if you ever get a chance to see him...go. just go. seriously.
This is a music video for the artist who opened for him, My Brightest Diamond. She was stellar, i bought her album. She also helped sing and play guitar and piano in Sufjan's performance as well. Gorgeous video...i think she's mesmerizing to watch. She'll be the next big thing, folks, mark my words.
i also got a sweet shirt. Pip, Sarah and i all got one...they say "Ride the hatch!"
All in all, what an inspired and amazing night! Thank you Lord!!